New DNV approved Digital Rudder Feedback kit for Azipods
We are proud to announce that our Azipod feedback unit RFB360 has been upgraded with a new digital feedback kit RFC-360-D, which begin shipping in December 2022.
For the past 25 years, the RFB360 feedback unit has been installed in large quantities, with many ships having up to 8 units installed.
The RFC-360D kit is unique in that it is based on a magnetic Hall sensor, which means there is no mechanical wear like with a standard potentiometer. This significantly increases the life span, and we guarantee 10 years, whereas the previous sliding contact based RFC360 potentiometer should be replaced at least every 5 years due to the constant rudder movement.
Because it eliminates costly docking, this represents significant maintenance savings.
RFC360-D replaces an old RFC360 kit in a few simple steps, including zero-adjust calibration, and only requires a Steering Gear Test to confirm installation success.
Contact us to learn more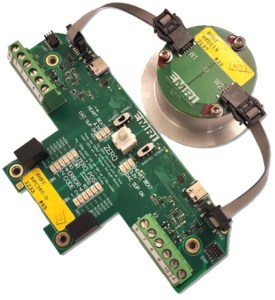 More technical details:
The RFC360-D is a dual SIN/COS output rudder feedback kit, consisting of an angle sensor (RFD119) and a feedback board. It is designed as a terminal compatible replacement for the RFC360 feedback kit used in the RFB360 feedback units.
It is designed with a Hall effect angle sensor, which consists of two independent channels, allowing the RFC360-D to operate with two independent channels. The RFD119 angle sensor PCB is based on a dual channel Hall effect angle sensor IC. The two channels are completely independent with regards to power supply, serial interface and magnetic pickup, as to comply with the same regulations set forth by the class societies for the old potentiometer kits.